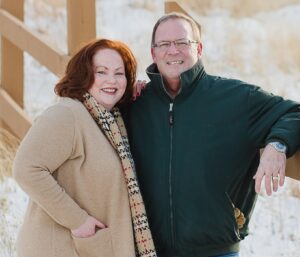 Born and raised in Chicago, Bernadette Moore Gibson began creating custom Celtic jewelry in 1991. Deeply influenced by her Irish heritage, Bernadette fell in love with Celtic art and the designs found in the storied Book of Kells. Her mother was born in Ennis, County Clare Ireland, and her father also shares Irish ancestry.
Bernadette started her career in the Jewelry Industry in 1985 and six years later received a Bachelors degree in Fine Arts. In 1997, she moved to Ireland to continue her study of Celtic design. In 2013 Bernadette completed a Master's Degree in Divinity at Loyola University, Chicago. Her deep spiritual beliefs continue to inspire her work both as the Director of Pastoral Care at Old St. Patrick's Catholic Church in Chicago for the last 18 years and a designer of custom Celtic jewelry. Bernadette and her husband Gary travel to Irish festivals all over the United States selling her artwork. They recently moved their shop to Michigan City Indiana to grow thier business but still work with their clients in Chicagoland.
Bernadette designs for clients in Ireland, England and the U.S.